The Intel 840 is a high-end chipset designed for use in high-performance multiprocessor systems using slot 1, slot 2 (Xeon processor), or Socket 370 processors. The 840 chipset uses the same hub architecture and modular design as the rest of the 800 family chipsets, with some additional components enabling more performance.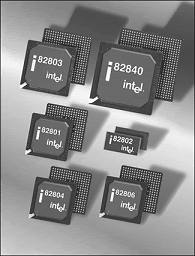 As with the other 800 series chipsets, the 840 has three main components:
82840 Memory Controller Hub. Provides graphics support for AGP 2x/4x, dual RDRAM memory channels, and multiple PCI bus segments for high-performance I/O.
82801 I/O Controller Hub. Equivalent to the South Bridge in older chipset designs, except it connects directly to the MCH component via the high-speed Intel Hub Architecture bus. The ICH supports 32-bit PCI, IDE controllers, and dual USB ports.
82802 Firmware Hub. Basically an enhanced Flash ROM chip that stores system BIOS and video BIOS, as well as an Intel RNG. The RNG provides truly random numbers to enable stronger encryption, digital signing, and security protocols.
In addition to the core components, parts are available for scaling up to a more powerful design. Three additional components can be added:
82806 64-bit PCI Controller Hub (P64H). Supports 64-bit PCI slots at speeds of either 33MHz or 66MHz. The P64H connects directly to the MCH using Intel Hub Architecture, providing a dedicated path for high-performance I/O. This is the first implementation of the 66MHz 66-bit PCI on a PC motherboard chipset, allowing for a PCI bus four times faster than the standard 32-bit 33MHz version.
82803 RDRAM-based Memory Repeater Hub (MRH-R). Converts each memory channel into two memory channels for expanded memory capacity.
82804 SDRAM-based Memory Repeater Hub (MRH-S). Translates the RDRAM protocol into SDRAM-based signals for system memory flexibility. This would be used only in 840 systems that supported SDRAM.
840 chipset features include
100/133MHz processor bus

Dual RDRAM memory channels, operating simultaneously and providing up to 3.2GBps memory bandwidth

16-bit wide implementation of Intel Hub Architecture (HI16), which enables high-performance concurrent PCI I/O with the optional P64H component

AGP 4x

Prefetch cache, unique to the 840 chipset, which enables highly efficient data flow and helps maximize system concurrency

Intel RNG

USB support
Optionally, network interface and RAID controller interface chips can be added as well.