Several types of devices can be purchased to enable the data on flash memory cards to be moved from digital cameras and other devices to a computer. Although some digital cameras come with an RS-232 serial cable for data downloading, this is a painfully slow method, even for low-end cameras with less than a megapixel (1,000 pixel horizontal width) resolution.
Card Readers
The major companies who produce flash card products sell card readers that can be used to transfer data from proprietary flash memory cards to PCs. These card readers typically plug into the computer's USB ports (some older versions might use the parallel port) for fast access to the data on the card.
In addition to providing fast data transfer, card readers enable the reuse of expensive digital film after the photos are copied from the camera and save camera battery power because the camera is not needed to transfer information.
External card readers can be used with any computer with the correct port type and a supported operating system. USB readers, for example, should be used with Windows 98 or above.
Because many computer and electronics device users might have devices that use two or more types of flash memory, many vendors now offer multiformat flash memory card readers, such as the Imation FlashGo! shown in Figure below.
Type II PC Card Adapters
For use in the field, you might prefer to adapt flash memory cards to the Type II PC Card slot. You insert the flash memory into the adapter; then, you slide the adapter into the notebook computer's Type II PC Card slot. Figure below shows how a CompactFlash card Type II PC Card adapter works.
As with card readers, check with the major companies who produce your type of flash memory device for the models available.
Floppy Adapters
If you have a standard 3 1/2'' floppy drive connected to a standard floppy controller, you have a third alternative for reading the contents of flash memory cards: SmartDisk makes the FlashPath line of flash memory card adapters that fit in place of a 3 1/2'' floppy disk.
Separate models are available for SmartMedia, Sony Memory Stick, and CompactFlash cards. As shown in Figure below, the flash memory devices are inserted into the FlashPath adapter.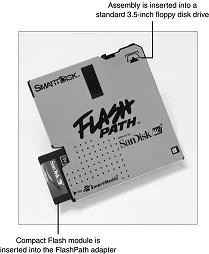 Then, the FlashPath adapter is inserted into a 3 1/2'' floppy drive. Note that this adapter does not work with the SuperDisk drives found in some computers; it works only with 1.44MB floppy drives.
Microdrive Technology
If you prefer magnetic storage for digital camera data storage, consider the Hitachi Microdrive, originally developed by IBM and now manufactured and sold by Hitachi Global Storage Technologies. The Hitachi Microdrive is also sold by various other companies under OEM agreements.
When first introduced by IBM, the Microdrive was released in a 170MB capacity. Current models, though, have capacities of 340MB, 512MB, 1GB, and 4GB. The 4GB model uses a new five-layer version of the Pixie Dust AFC media technology originally developed by IBM.
Microdrives can be used with several digital cameras, many notebook computers, and other devices. The Microdrive is a true hard drive at 1'' wide and works in CompactFlash+ Type II slots, enabling it to be a direct replacement for standard CompactFlash memory cards on compatible equipment.
The Microdrive is also available as part of a Travel Kit containing a PC Card adapter, and the drive is compatible with many standard CompactFlash card readers. Figure below shows how Microdrive's mechanism compares in size to a standard U.S. quarter.