After introducing the Pentium Pro with its integrated L2 cache, Intel discovered that the physical package it chose was very costly to produce. Intel was looking for a way to easily integrate cache and possibly other components into a processor package, and it came up with a cartridge or board design as the best way to do this.
To accept its new cartridges, Intel designed two types of slots that could be used on motherboards. Slot 1 is a 242-pin slot designed to accept Pentium II, Pentium III, and most Celeron processors. Slot 2, on the other hand, is a more sophisticated 330-pin slot designed for the Pentium II Xeon and Pentium III Xeon processors, which are primarily for workstations and servers.
Besides the extra pins, the biggest difference between Slot 1 and Slot 2 is the fact that Slot 2 was designed to host up to four-way or more processing in a single board. Slot 1 allows only single or dual processing functionality. Note that Slot 2 is also called SC330, which stands for slot connector with 330 pins.
Intel later discovered less-expensive ways to integrate L2 cache into the processor core and no longer produces Slot 1 or Slot 2 processors. Both Slot 1 and Slot 2 processors are now obsolete, and many systems using these processors have been retired or upgraded with socket-based motherboards
Slot 1 (SC242)
Slot 1, also called SC242 (slot connector 242 pins), is used by the SEC design that is used with the cartridge-type Pentium II/III and Celeron processors.
Slot 1 connector dimensions and pin layout.

Slot 2 (SC330)
Slot 2, otherwise called SC330 (slot connector 330 pins), is used on high-end motherboards that support the Pentium II and III Xeon processors.
Slot 2 (SC330) connector dimensions and pin layout.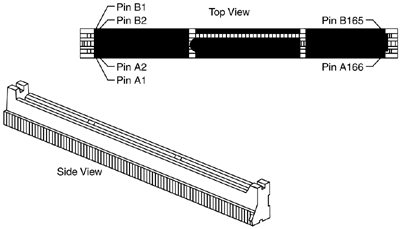 The Pentium II Xeon and Pentium III Xeon processors are designed in a cartridge similar to, but larger than, that used for the standard Pentium II/III.
Pentium II/III Xeon cartridge.
Slot 2 motherboards were used in higher-end systems such as workstations or servers based on the Pentium II Xeon or Pentium III Xeon. These versions of the Xeon differ from the standard Pentium II and slot-based Pentium III mainly by virtue of having full-core speed L2 cache, and in some versions more of it. The additional pins allow for additional signals needed by multiple processors.