Most sound card have the same basic external connectors. These 1/8'' minijack connectors provide the means of passing sound signals from the adapter to speakers, headphones, and stereo systems, and of receiving sound from a microphone, CD player, tape player, or stereo. The four types of connectors your sound card should have at a minimum are shown in Figure below.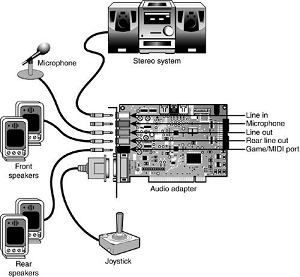 The jacks shown in Figure above are usually labeled, but when setting up a computer on or under a desk, the labels on the back of the PC can be difficult to see. One of the most common reasons a PC fails to produce any sound is that the speakers are plugged into the wrong socket.
To avoid this problem, many consumer-oriented audio cards color-code the jacks according to specifications found in the PC99 Design Guide. The color-coding can vary on some audio adapters (or not be present at all). Regardless, the basic set of connections included on most audio cards is as follows:
Stereo line, or audio, out connector (lime green). The line-out connector is used to send sound signals from the audio adapter to a device outside the computer. You can hook up the cables from the line-out connector to stereo speakers, a headphone set, or your stereo system. If you hook up the PC to your stereo system, you can have amplified sound.
Stereo line, or audio, in connector (light blue). With the line-in connector, you can record or mix sound signals from an external source, such as a stereo system or VCR, to the computer's hard disk.
Rear out or speaker/headphone connector (no standard color). Older sound cards often provided an amplified jack supplying up to 4 watts of power for use with unpowered speakers or headphones along with the line-out connector. Today, you are more likely to find this jack used for rear speakers in four-speaker setups.
The rear out jack often is disabled by default; check your audio adapter properties or setup program to see whether you need to enable this port when you connect rear speakers.
Microphone, or mono, in connector (pink). The mono-in connector is used to connect a microphone for recording your voice or other sounds to disk. This microphone jack records in mono—not in stereo—and is therefore not suitable for high-quality music recordings.
Many audio adapter cards use Automatic Gain Control (AGC) to improve recordings. This feature adjusts the recording levels on-the-fly. A 600ohm–10,000ohm dynamic or condenser microphone works best with this jack. Some inexpensive audio adapters use the line-in connector instead of a separate microphone jack.
Game port (gold). The game port (also called the joystick connector) is a 15-pin, D-shaped connector that can connect to any standard joystick or game controller. Sometimes the joystick port can accommodate two joysticks if you purchase an optional Y-adapter.
Many computers already contain a joystick port as part of a multifunction I/O circuit on the motherboard or an expansion card. If this is the case, you must note which port your operating system or application is configured to use when connecting the game controller. Some of the latest sound cards and systems with onboard sound omit this connector because most recent game controllers support USB connectors.
MIDI connector (gold). Audio adapters typically use the same joystick port as their MIDI connector. Two of the pins in the connector are designed to carry signals to and from a MIDI device, such as an electronic keyboard. In most cases, you must purchase a separate MIDI connector from the audio adapter manufacturer that plugs into the joystick port and contains the two round, 5-pin DIN connectors used by MIDI devices, plus a connector for a joystick.
However, high-end sound cards might use 5-pin MIDI ports connected to a daughtercard or a breakout box. Because their signals use separate pins, you can connect the joystick and a MIDI device at the same time. You need this connector only if you plan to connect your PC to external MIDI devices. You can still play the MIDI files found on many Web sites by using the audio adapter's internal synthesizer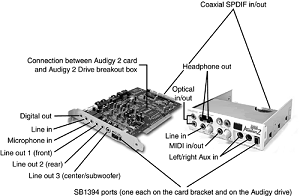 In addition to the external connections, most sound cards feature at least one (and possibly multiple) internal CD-audio connectors. Most audio adapters have an internal 4-pin connector you can use to plug an internal CD-ROM drive directly into the audio adapter, using a small round cable.
This connection enables the drive to send analog audio signals from the CD-ROM directly to the audio adapter, so you can play the sound through the computer's speakers. Some sound cards use a different connector than the CD-ROM, whereas others use the same type of connector as the CD-ROM.
To play audio CDs, you have two choices: The playback can be either analog or digital. Analog playback is supported via an analog audio cable connected between the drive and sound card.
This cable does not carry data from the CD-ROM to the system bus; it connects the analog audio output of the CD-ROM drive directly to the audio amplifier in the sound card.
With many drives and sound cards, if you don't connect an analog audio cable between the drive and card, you might be unable to play music CDs or hear some game audio. Most newer drives and cards support digital playback as well as the standard direct analog connection.
If your drive and card support digital playback, open the Control Panel in Windows, click the Multimedia icon, and then select the CD Music tab. You should see settings for changing the default drive for playing CD music and a box you can check to enable digital CD audio for that drive.
If the box is grayed out (meaning you can't check it), digital audio is not supported for that drive or card. Using digital audio enables multiple drives to play audio CDs. Typically, a sound card has only a single analog audio connector, so if you have multiple optical drives, only one can have an analog audio connection to the sound card for playing audio CDs.
If you want to play audio CDs on multiple drives, you must either enable digital CD audio for those drives or purchase a CD audio Y-cable. By either enabling digital audio or installing an analog audio cable, you should be able to play audio CDs with any given CD/DVD drive.