Some of the best bargains on the Web come from other consumers, just like you, selling items via eBay. eBay is the Web's largest online marketplace, facilitating transactions between the people and businesses who have things to sell and the customers who want to buy those things.
Most transactions on eBay are in the form of online auctions. An online auction is, quite simply, a web-based version of a traditional auction. You find an item you'd like to own and then place a bid on the item. Other users also place bids, and at the end of the auction—typically a seven-day period—the highest bidder wins.
Not every transaction on eBay is an auction transaction, however. eBay also serves up a fair number of fixed-price sales through its Buy It Now feature and through merchants who run their own eBay Stores.
With more than 36 million items listed for sale on any given day, you're bound to find something you want to buy; eBay has it all, from rare collectibles and vintage sports memorabilia to trendy clothing and the latest electronics equipment.
eBay started out as a pure online auction site. eBay's job was to host the auction listings and facilitate the transactions between buyers and sellers. (Note that eBay doesn't actually sell anything itself, nor does it hold any inventory; all the transactions are between individual buyers and sellers, with eBay functioning solely as the middleman.)
In the beginning, eBay sellers were almost exclusively individuals—people like you and me with unwanted items they wanted to sell. In this way, eBay functioned like a giant garage sale or yard sale. An individual had something to sell, he listed it on eBay, and another individual decided to buy it.
The second individual paid the first individual, who then shipped the item to the buyer. It was pretty simple. Today, however, eBay is more than just person-to-person transactions. Many of eBay's original sellers have gotten quite big, listing hundreds of auctions every week and turning their eBay sales into real businesses.
In addition, many existing businesses have turned to eBay as a way to make additional sales. So when you buy on eBay today, you may be buying from an individual selling just a few items, an individual running a small business out of her home, or a large business selling eBay items on the side.
Whomever you buy from, the process for the buyer is the same—as are the protections. The eBay marketplace is a level one, where all buyers and sellers follow the same rules and regulations.
And the process for bidding and buying is the same no matter who you're buying from; just remember, you're buying from an independent seller, not from eBay itself. If you've never used eBay before, you might be a little anxious about what might be involved.
Never fear; participating in an online auction is a piece of cake, something hundreds of millions of other users have done before you. That means you don't have to reinvent any wheels; the procedures you follow are well-established and well-documented.
An eBay auction is an Internet-based version of a traditional auction—you know, the type where a fasttalking auctioneer stands in the front of the room, trying to coax potential buyers into bidding just a little bit more for the piece of merchandise up for bid.
The only difference is that there's no fasttalking auctioneer online (the bidding process is executed by special auction software on the auction site), and your fellow bidders aren't in the same room with you—in fact, they might be located anywhere in the world. Anyone can be a bidder, as long as he or she has Internet access.
Here's how the auction process works, in general terms:
You begin (as either a buyer or a seller) by registering with

eBay

. You can do this by clicking the Register link on

eBay's home page

.
The seller creates an ad for an item and lists the item on the auction site. (eBay charges anywhere from $0.20 to $4.80 to list an item.) In the item listing, the seller specifies the length of the auction (1, 3, 5, 7, or 10 days) and the minimum bid he or she will accept for that item.
A potential buyer searching for a particular type of item (or just browsing through all the merchandise listed in a specific category) reads the item listing and decides to make a bid.
The bidder specifies the maximum amount he or she will pay; this amount has to be equal to or greater than the seller's minimum bid, or higher than any other existing bids.
eBay's built-in bidding software automatically places a bid for the bidder that bests the current bid by a specified amount—but doesn't reveal the bidder's maximum bid. For example, the current bid on an item might be $25.
A bidder is willing to pay up to $40 for the item, and enters a maximum bid of $40. eBay's "proxy" software places a bid for the new bidder in the amount of $26—higher than the current bid, but less than the specified maximum bid. If there are no other bids, this bidder will win the auction with a $26 bid.

Other potential buyers, however, can place additional bids; unless their maximum bids are more than the current bidder's $40 maximum, they are informed (by email) that they have been outbid—and the first bidder's current bid is automatically raised to match the new bids (up to the specified maximum bid price).
At the conclusion of an auction, eBay informs the high bidder of his or her winning bid. The seller is responsible for contacting the high bidder and arranging payment. When the seller receives the buyer's payment (by check, money order, or credit card), the seller then ships the merchandise directly to the buyer.
Concurrent with the close of the auction, eBay bills the seller for a small percentage (starting at 5.25%) of the final bid price. This selling fee is directly billed to the seller's credit card.
Step-by-Step Bidding on eBay
Bidding in an online auction is kind of like shopping at an online retailer—except that you don't flat-out make a purchase. Instead, you make a bid—and you only get to purchase the item at the end of the auction if your bid was the highest bid made. Here's how it works:
You look for items using eBay's search function (via the Search box on eBay's home page) or by browsing through the product categories.
When you find an item you're interested in, take a moment to examine all the details. A typical item listing (like the one shown in Figure below) includes a photo of the item, a brief product description, shipping and payment information, and instructions on how to place a bid.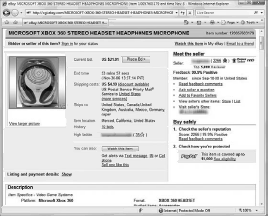 Now it's time to place your bid, which you do by clicking the Place Bid button. Remember, you're not buying the item at this point; you're just telling eBay how much you're willing to pay.
Your bid must be at or above the current bid amount. My recommendation is to determine the maximum amount you'd be willing to pay for that item, and bid that amount—regardless of what the current bid level is.
eBay uses automatic proxy bidding software to automatically handle the bidding process from here. You bid the maximum amount you're willing to pay, and eBay's proxy software enters the minimum bid necessary— without revealing your maximum bid amount. Your bid will be automatically raised (to no more than your maximum amount) when other users bid.
The auction proceeds. Most auctions run for seven days, although sellers have the option of running 1-, 3-, 5-, 7-, and 10-day auctions.
If you're the high bidder at the end of the auction, eBay informs you (via email) that you're the winner.
You can pay immediately (with a credit card, via the PayPal service) by clicking the Pay Now button in this end-of-auction notice. Otherwise, send the seller the appropriate payment via personal check, money order, or cashier's check.
Your payment should include both the cost of the item (the winning bid amount) and a reasonable shipping/handling charge, as determined by the seller.
The seller ships the item to you.
It's important to note that even though you've been using the services of the eBay site, the ultimate transaction is between you and the individual seller. You don't pay eBay; eBay is just the middleman.
Buy It Quick with Buy It Now
Tired of waiting around for the end of an auction, only to find out you didn't have the winning bid? Well, there's a way to actually buy some items you see for auction without going through the bidding process. All you have to do is look for those auctions that have a Buy It Now (BIN) option.
Buy It Now is an option that some (but not all) sellers add to their auctions. With Buy It Now, the item is sold (and the auction ended) if the very first bidder places a bid for a specified price. (For this reason, some refer to Buy It Now auctions as "fixed-price" auctions— even though they're slightly different from eBay's real fixed-priced listings.)
Buying an item with Buy It Now is really simple. If you see an item identified with a Buy It Now price, just enter a bid at that price. You'll immediately be notified that you've won the auction (and instructed to pay—typically via PayPal), and the auction will be officially closed.
Other eBay sellers choose to skip the auction process entirely and sell their items at a fixed price. These listings also display the Buy It Now button but without a bidding option. Fixedpriced listings are common in eBay Stores, where larger sellers offer a constant supply of fixed-priced merchandise for sale all year round.
eBay Express, eBay Stores, and Half.com
eBay offers more than just online auctions. In addition to the traditional online auction marketplace, eBay offers three other marketplaces that focus on selling fixed-priced items: eBay Express, eBay Stores, and Half.com.
eBay Stores
In addition to those fixed-price items offered as part of the traditional eBay auction listings, you can also find fixed-price items for sale in eBay Stores. An eBay Store is an online storefront where eBay merchants can sell their goods without putting them up for auction—and keep them for sale indefinitely, without the typical auction expiration.
You can browse through thousands of different eBay merchants at the eBay Stores page. eBay Stores merchants are organized by the same categories as the eBay auction site—Antiques, Art, Books, and so on. You can also search for a specific store or a store selling a certain type of item, or view an alphabetical list of all stores.
Buying an item from an eBay Store is a little like buying from any other online merchant, and a little like winning an item in an eBay auction. On the one hand, you're buying from an actual merchant at a fixed price, and you can always pay by credit card (typically via PayPal).
On the other hand, you have all the niceties you have on eBay, including the ability to check the merchant's feedback rating. After you locate an item you want, you're taken to the "virtual storefront" of the eBay Store selling the item.
When you're in a specific store, you can purchase the item you were looking at or shop for additional items. Your checkout is handled from within the store.
eBay Express
The newest part of the eBay marketplace is eBay Express. eBay Express offers a streamlined shopping and checkout experience for fixed-priced items. eBay Express consolidates nonauction listings from both the main eBay site and eBay Stores.
That is, you can use eBay Express to find all the fixed-priced items offered by eBay sellers without having to search the site, browse the Stores, or wait for an auction process to end.
All items offered on eBay Express can be paid for with a credit card, typically using PayPal. Even better, you can purchase multiple items from multiple sellers and have all your purchases consolidated into a single shopping cart and checkout system. Buy multiple items, make a single payment—not a bad deal.
Half.com
eBay Stores and eBay Express aren't the only places you can find fixed-price merchandise in the eBay universe. eBay also runs a site called Half.com, which offers new and used merchandise for sale from a variety of merchants. The Half.com home page looks a little like Amazon.com's home page.
That's by design; Half.com was originally conceived as an Amazon competitor. Today, Half.com offers merchandise from large and small retailers and from individuals, too. The site specializes in CDs, DVDs, video games, books, and textbooks.
When you make a purchase at Half.com, you're buying directly from the individual seller, just as you do in an eBay auction. The big difference, of course, is that it's not an auction; you're buying an item (new or used) at a fixed price.
The other difference is that you don't pay the seller separately; all your Half.com purchases end up in the same shopping cart, just like at Amazon.com. You check out once for all your purchases and make just one payment (to Half.com). Half.com then pays the individual sellers, who ship you your merchandise separately. It's fairly painless.
Protecting Against Fraudulent Sellers
When you're bidding for and buying items on eBay, you're pretty much in "buyer beware" territory. You agree to buy an item, almost sight unseen, from someone whom you know practically nothing about.
You send that person a check and hope and pray that you get something shipped back in return—and that the thing that's shipped is the thing you thought you were buying, in good condition. If you don't like what you got—or if you received nothing at all—the seller has your money. And what recourse do you have?
Checking Feedback
The first line of defense against frauds and cheats is to intelligently choose the people you deal with. On eBay, the best way to do this is via the Feedback system. Next to every seller's name is a number and percentage, which represents that seller's Feedback rating.
You should always check a seller's Feedback rating before you bid. If the number is high with an overwhelmingly positive percentage, you can feel safer than if the seller has a lot of negative feedback.
For even better protection, click the seller's name in the item listing to view his Member Profile, where you can read individual feedback comments. Be smart and avoid those sellers who have a history of delivering less than what was promised.
Getting Help After a Bad Transaction
What do you do if you follow all this advice and still end up receiving unacceptable merchandise—or no merchandise at all?
Fortunately, eBay offers a Purchase Protection Program for any auction transaction gone bad. This Purchase Protection Program is the final step in a long process with an equally long name—the Item Not Received or Significantly Not as Described Process.
You can initiate the process 10 days after the end of an auction by going to eBay's Security & Resolution Center, checking the Item Not Received option, and then clicking the Report Problem button.
eBay will contact the seller on your behalf, and if the problem isn't resolved within 30 days, you can then file a claim under eBay's Purchase Protection Program. The Purchase Protection Program insures you for up to $200 on all items with a final value greater than $25. (There's also a $25 deductible on each claim.)
To get your money back under this program, you have to go through the Item Not Received or Significantly Not Described Process, and then (after 30 days have passed with no resolution) close your dispute and select "end communication with the seller."
You'll then be presented with a link to the proper claim form, which you fill out as instructed. Sometime in the next 45 days you will be contacted by the eBay claims administrator; if your claim is approved, you'll be sent a check for the disputed amount (less the $25 deductible, of course).
Fortunately, the vast majority of eBay sellers are extremely honest—so you'll probably never have to take advantage of this program. Most transactions are good transactions!
Step-by-Step Selling on eBay
Have some old stuff in your garage or attic that you want to get rid of?
Consider selling it on eBay. Selling on eBay is a little more involved than bidding— but can generate big bucks if you do it right. Here's how it works:
If you haven't registered for an eBay seller account yet, do so now. You'll need to provide eBay with your credit card and checking account number, for verification and billing purposes.
Before you list your first item, you need to do a little homework. That means determining what you're going to sell and for how much, as well as how you're going to describe the item.
You'll need to prepare the information you need to write a full item description, as well as take a few digital photos of the item to include with the listing.
Homework out of the way, it's time to create the auction listing itself. Start by clicking the Sell button on eBay's home page. eBay displays a series of forms for you to complete; the information you enter into these forms is used to create your item listing.
You'll need to select a category for your item; enter a title and description; determine how long you want your auction to run and what kind of payments you'll accept; insert a photo of the item, if you have one; and enter the amount of the desired minimum (starting) bid.
After you enter all the information, eBay creates and displays a preliminary version of your auction listing. If you like what you see, click OK to start the auction.
Sit back and wait for the auction to progress.
When the auction is over, eBay notifies you (via email) of the high bid and provides the email address of the winning bidder.
Many winning bidders will pay via credit card (using the PayPal service) as soon as the auction is over, by clicking the Pay Now link in the end-of-auction notice they receive. If the high bidder doesn't pay immediately, email him an invoice containing the final bid price and the shipping/handling charges.
After you've been paid, pack the item and ship it out.
That's it—you've just completed a successful eBay auction!